Q1 Tapes have over 25 years of experience in both the automotive and decorating industries, sharing their expertise in the form of specialised masking tapes each designed to perform effectively in their own specific area.  
Here at U-PRO Trade Supplies we carry Q1's amazing line of painter's tape — and we love each and every one of them! But how specialised are they really?..
Q1 DELICATE SURFACE MASKING TAPE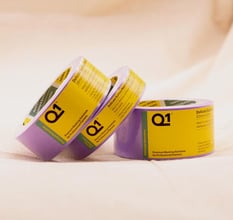 Q1's Delicate Surface Masking Tape is specially designed for easy removal on delicate surfaces. The ultra-thin tape can even be used on freshly painted (dry) surfaces without disturbing the paint below, to help you get those fresh, crisp lines quicker and achieve those more intricate or funky paint jobs in half the time!
The Delicate Surface Masking Tapes come in 1", 1.5" and 2" sizes so that you can adjust your sizing to your specific needs. 
Perfect for: Both DIY enthusiasts and professional decorators alike! Geometric paint designs. Half-and-half walls. Feature walls. 
"I usually stick this delicate masking tape on surfaces when I want to get perfectly straight lines, even on wood and wallpapers (I'm an interior decorator). Never had troubles with paint leaks or damaged paint" — Steve, Q1 Premium Masking Solutions
Q1 HANDY MASKING PAPER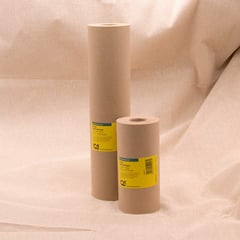 Q1's masking paper makes covering those larger surfaces super quick and easy. No more scrabbling around looking for newspaper or old bedsheets! It is effective when working with both conventional brush painting methods and offers better protection when working with paint sprayers to help you protect floors, windows and beams from excess spray. Simply roll it out wherever it is needed, tape it down and your surface is protected for the rest of the job.
You can buy this paper in both 6"x180ft or 12"x180ft rolls depending on the surface area that you want to cover. 
Perfect for: Protecting windows & floors. Using with paint sprayers. Keeping down for several days. 
"I find it better that dust sheets on hard floor areas because you can see where paint has spilt so no transfer to unprotected areas. Easy to roll out and to tape down with masking tape. I would recommend it to any professional painter." — Ewan, Q1 Premium Masking Solutions
Q1 MULTI PURPOSE INDOOR MASKING TAPE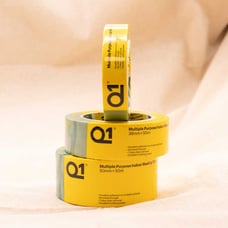 This semi crepe masking tape is designed for almost all indoor paint work with a natural rubber based adhesive. It even sticks effectively to irregular surfaces — especially base boards, trims and even metal. It can be left for up to a week without leaving any residue on the original surface, and still with perfectly easy removal. If you're looking for the perfect masking tape to cover your baseboards with, this is the tape for you.
You can get these tapes once again in 1", 1.5" and 2" sizes so that you can adjust your sizing to your specific needs.
Perfect for: Baseboards, light switches + other irregular surfaces. 
"I have a box of 24 of the multi purpose tape and use it for general masking of carpets, drop down film and brown paper masking. It's always in the van, I would be lost without it." — Jason Savage, Decorators Forum UK
Q1 PRECISION LINE MASKING TAPE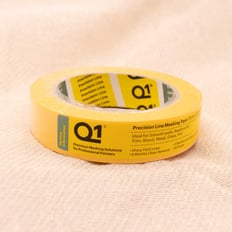 The Precision Line Masking Tape is what you need if you're after those perfectly sharp edges every time without leaving behind any adhesive residue. It is designed for both indoor and outdoor spray-painting jobs, compatible with both water-based and solvent-based paints as it is UV and water resistant (which makes it the best tape for outdoor use!) It can even be used on unusual surfaces such as glass, PVC and even wood.
As with the rest of the Q1 masking tapes, you can once again get these tapes in 1", 1.5" and 2" sizes.
Perfect for: Outdoor use. Wood paint. Water based paints. HPLV and airless paint spray. 
"...for example the precision line, I needed something I could leave down for a fair while, and at the same time not be too tacky and pull any existing paint, whilst still leaving crisp edges with no bleed. Basically ticked every box..." — Wesley Knight, Decorators Forum UK
Q1 PRE-TAPED MASKING PAPER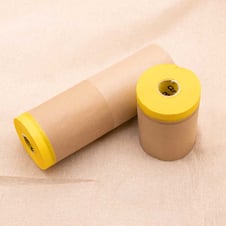 The pre-taped masking paper is the perfect solution for interior large surface area protection against drips including skirting boards, light switches and window ledges. It's a hybrid of masking tape and masking paper so that you don't need to be carrying around both. With easy application and residue free removal it's a no-brainer to add this to your everyday use bag. 
You can buy this in rolls of 300mmx25m or 180mmx25m dependent on the surface area you're likely to be covering.
Perfect for: Professional use. Protecting floors. Saving masking tape for decoration & crisp lines. 
"Excellent quality of materials, great attention to detail and above all excellent value for money. I can only recommend it." — Scott, Q1 Premium Masking Solutions
Q1 WASHI MASKING FILM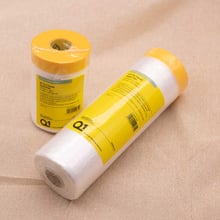 Like the Pre-taped Masking Paper, the Pre-taped Washi Masking Film allows for easy application and residue free removal — except this is perfect for outdoor use, when paper may not quite be the best fit. You can create your sharp lines and protect surfaces all in one, and you won't have to re-lay it if it gets wet. 
You can buy this in rolls of either 550mmx33m or 1400mmx33m to best fit the surface area you're likely to be covering.
Perfect for: Professional use. Outdoor surface coverage. Wet jobs. HPLV and airless paint spray.
"The best tape and drape in my experience! Very easy to apply and unfold, it comes off the walls smoothly." — Taylor, Q1 Premium Masking Solutions
CONCLUSION
Q1 tapes are some of our most popular tapes — and there is a good reason for it! Their brilliant range is perfect for getting those specialised jobs right every time. You can find everything mentioned in this post at U-PRO.co.uk and save 5% on it all when you use our new U-Subscribe service!