Do you need a tough, disposable wipe for those hard to clean professional messes? UltraGrime® have got your back. 
UltraGrime® clothwipes are bigger, wetter and stronger than any other wipe. They stay usable for over an hour and that, combined with their XXL surface area, means that you use less and waste less. UltraGrime® wipes may be designed to clean your tough messes, but they're not tough on your skin. Infused with aloe extract and vitamin E, they'll keep your hands healthy while keeping your workspaces clean. Whether you work in the automotive or construction industry, these are the perfect wipes for any job. 
But with 4 different UltraGrime® Pro wipes in their range, which ones should you buy?
The UltraGrime® multiuse wipes are a great all-rounder, even just for wiping your hands at the end of the day. They are designed for any and all messes - from oil and grease to silicone or uncured PU foam - on any surface. 
As all of their range, the multiuse are bigger than any other wipe on the market at 38cmx25cm, stay wetter for longer and are significantly stronger with a cloth like feel that won't rip easily!
As with the multiuse wipes the anti-bac are designed to be used for any and all surfaces as - well as your skin. The benefit of the anti-bac is their medical grade bacteria and virus fighting abilities. They claim to kill 99.999% of bacteria and viruses including coronaviruses, Sars-Cov-2, Norovirus and Influenza A (H1N1). Unfortunately, due to this they are not infused with vitamin E and aloe extract like the other wipes in the range.
Having said this, these wipes are perfect for wiping down tools (especially those used communally) your vehicle and especially any extra dirty jobs such as those including pipes and drains. 
These wipes are for those of you who are serious about sustainability and protecting the environment. Disposable wipes are one of the most common disposable products to be found along coastlines as well as in sewer systems. 
With the bio wipes, you don't have that on your conscience! They are 100% biodegradable and tested to EN standard EN14046. Combined with their recyclable packaging, these are the perfect solution to cleaning tough messes while still doing your bit for the environment.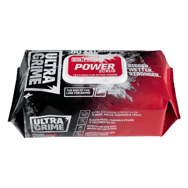 NEW UltraGrime® Pro: Power Scrub
The new power scrub wipes are even tougher on messes than before! They are designed with one classic smooth side and one coarse side, so you can scrub away mess quicker. They're also infused with a new powerful grease-destructing cleansing agent to be even more intense, making them the most effective grime removing wipes on the market.
Although they're designed to be next level tough, they're still alcohol free with vitamin E and aloe extract, so they're still kind to your skin. 
Still not sure? Check out our comparison table below…
| | | | | | | | | |
| --- | --- | --- | --- | --- | --- | --- | --- | --- |
|   | Wipes Per Pack | Size | Recyclable Packaging? | Biodegradable? | Anti-bacterial Properties? | Aloe Extract & Vitamin E? | Alcohol Free? | Textured Side? |
| UltraGrime® Pro: Multiuse | 100 | XXL | ✓ | x | Some | ✓ | ✓ | x |
| UltraGrime® Pro: Anti-Bac | 100 | XXL | ✓ | x | Yes - 99.999% | x | ✓ | x |
| UltraGrime® Pro: Bio | 100 | XXL | ✓ | ✓ | Some | ✓ | ✓ | x |
| UltraGrime® Pro: Power Scrub | 80 | XXL | ✓ | x | x | ✓ | ✓ | ✓ |